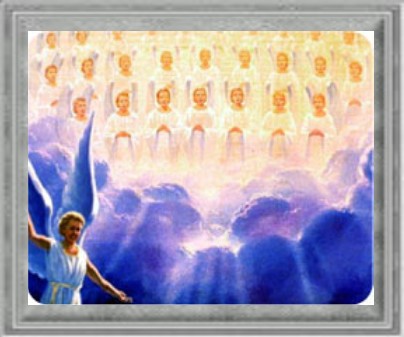 Jesus And Music
And when they had sung an hymn, they went out into the mount of Olives.
Matthew 26:30
With a song, Jesus in His earthly life met temptation. Often when sharp, stinging words were spoken, often when the atmosphere about Him was heavy with gloom, with dissatisfaction, distrust, or oppressive fear, was heard His song of faith and holy cheer.
Education P 166
----------------------------------
Jesus is soon coming, and our position should be that of waiting and watching for His appearing. We should not allow anything to come in between us and Jesus. We must learn here to sing the song of heaven, so that when our warfare is over we can join in the song of the heavenly angels in the city of God. What is that song? It is praise, and honor, and glory unto Him that sitteth upon the throne, and unto the Lamb for ever and ever. We shall meet opposition; we shall be hated of all men for Christ's sake, and by Satan, because he knows that there is with the followers of Christ a divine power, which will undermine his influence. We cannot escape reproach. . . .
L H U 372
-----------------------------------
We all in solemn silence gazed on the cloud as it drew nearer, and became lighter, glorious, and still more glorious, till it was a great white cloud. The bottom appeared like fire; a rainbow was over it, and around the cloud were ten thousand angels singing a most lovely song. And on it sat the Son of man, on his head were crowns, his hair was white and curly and lay on his shoulders.
SG Volume 2 32
-----------------------------------
Study the Scriptures for yourselves. Hear what the voice of the true Shepherd says to you, and then walk in the path of humble obedience, and at last the gift of eternal life will be granted to you. We cannot afford to lose eternal life. May God grant that we may meet this dear people around the great white throne, and with them sing the song of Redemption in the kingdom of glory.
A. R. & S. H.
June 10,1890
-----------------------------
Lift up Jesus, you that teach the people, lift Him up in sermon, in song, in prayer. Let all your powers be directed to pointing souls, confused, bewildered, lost, to "the Lamb of God." Lift Him up, the risen Saviour, and say to all who hear, Come to Him who "hath loved us, and hath given Himself for us." Let the science of salvation be the burden of every sermon, the theme of every song.
Evangelism 185
-----------------------------------
The companions of Jesus often said to Him, Why need you be so particular? It is unnecessary to work in that way. You could just as well work with less exactitude, and save time. Instead of arguing with them, Jesus answered their criticisms by beginning to chant one of the Psalms in which David taught that faithfulness and integrity must mark the character. The spirit of the song affected the hearts of those who were with Jesus, and almost before they realized what they were doing, they caught the strain and joined with them in singing. And when a quarrel arose, instead of stopping to argue or to justify His course, Jesus began to sing. Soon His companions would forget their differences of opinion and their angry words. Those who, a few moments before, had felt provoked with Him or with one another, now joined in singing the hymn of praise.
ST June 10,1903
-----------------------------------
Jesus Christ. Through the influence of the Spirit, enmity against God is changed into faith and love, and pride into humility. The soul perceives the beauty of truth, and Christ is honored in excellence and perfection of character. As these changes are effected, angels break out in rapturous song, and God and Christ rejoice over souls fashioned after the divine similitude. . . .
MYP 55
-----------------------------------
Then I was pointed to the glory of heaven, to the treasure laid up for the faithful. Everything was lovely and glorious. The angels would sing a lovely song, then they would cease singing and take their crowns from their heads and cast them glittering at the feet of the lovely Jesus, and with melodious voices cry, "Glory, Alleluia!" I joined with them in their songs of praise and honor to the Lamb, and every time I opened my mouth to praise Him, I felt an unutterable sense of the glory that surrounded me.
E W 66
-----------------------------------
Jesus lived in a peasant's home, and faithfully and cheerfully acted His part in bearing the burdens of the household. . . . Jesus
carried into His labor cheerfulness and tact. It requires much patience and spirituality to bring Bible religion into the home life and into the workshop, to bear the strain of worldly business, and yet keep the eye single to the glory of God. This is where Christ was a helper. He was never so full of worldly care as to have no time or thought for heavenly things. Often He expressed the gladness of His heart by singing psalms and heavenly songs. Often the dwellers in Nazareth heard His voice raised in praise and thanksgiving to God. He held communion with heaven in song; and as His companions complained of weariness from labor, they were cheered by the sweet melody from His lips. His praise seemed to banish the evil angels, and, like incense, fill the place with fragrance.
SDG 149