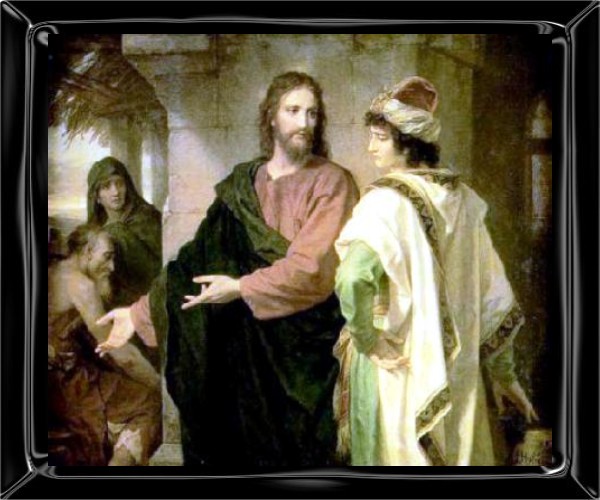 Jesus And
Riches
But my God shall supply all your need according to his riches in glory by Christ Jesus.
Philippians 4:19
Riches and honour are with me; yea, durable riches and righteousness.
Proverbs 8:18
A little that a righteous man hath is better than the riches of many wicked.
Psalms 37:16
Lo, this is the man that made not God his strength; but trusted in the abundance of his riches, and strengthened himself in his wickedness.
Psalms 52:7
Trust not in oppression, and become not vain in robbery: if riches increase, set not your heart upon them.
Psalms 62:10
A good name is rather to be chosen than great riches, and loving favour rather than silver and gold.
Proverbs 22:1
Thus saith the LORD, Let not the wise man glory in his wisdom, neither let the mighty man glory in his might, let not the rich man glory in his riches:
Jeremiah 9:23
And the disciples were astonished at his words. But Jesus answereth again, and saith unto them, Children, how hard is it for them that trust in riches to enter into the kingdom of God!
Mark 10:24
Charge them that are rich in this world, that they be not highminded, nor trust in uncertain riches, but in the living God, who giveth us richly all things to enjoy;
1 Timothy 6:17
--------------------------------------
Here was his lack. He failed to keep the first four commandments, also the last six. He failed to love his neighbor as himself. Said Jesus: "Give to the poor." Jesus touched his possessions. "Sell that thou hast, and give to the poor." In this direct reference He pointed out his idol. His love of riches was supreme; therefore it was impossible for him to love God with all his heart, with all his soul, with all his mind. And this supreme love for his riches shut his eyes to the wants of his fellow men. He did not love his neighbor as himself, therefore he failed to keep the last six commandments. His heart was on his treasure. It was swallowed up in his earthly possessions. He loved his possessions better than God, better than the heavenly treasure. He heard the conditions from the mouth of Jesus. If he would sell and give to the poor, he should have treasure in heaven. Here was a test of how much higher he prized eternal life than riches. Did he eagerly lay hold of the prospect of eternal life? Did he earnestly strive to remove the obstacle that was in his way of having a treasure in heaven? Oh, no; "he went away sorrowful: for he had great possessions."
T. C. Volume One 171
--------------------------------------
Said Christ, "He that will come after me, let him deny himself, and take up his cross and follow me." To follow Jesus fully requires a thorough conversion. Half-way converts make half-hearted Christians. Again, said Christ, "He that is not for me is against me, and he that gathereth not with me scattereth abroad." The plain words of truth spoken by our Saviour sifted his followers down to a few faithful ones who laid the foundation of the Christian church. Many of the wealthy, honorable, and noble ones of the world were charmed with the teachings of Christ, and had a desire to follow him. But when the truth in its practical bearings was brought home to their hearts and lives, they drew back, and walked no more with Jesus. The young ruler was desirous of following Christ. "Sell all that thou hast," said the Master, "and come, follow me, and thou shalt have treasure in Heaven." He could not comply with the terms. His poor, selfish heart loved his possessions better than the kingdom of God, and he turned from following his Saviour. He turned from his heavenly treasure, went back to his idolatrous love of his earthly treasures, and lost eternal riches.
S. A. R. & S. H.
December 2,1875
--------------------------------------
When we are tempted to place our affections on any earthly object that has a tendency to absorb our love, we must seek grace to turn from it, and not allow it to come between us and our God. We want to keep before the mind's eye the mansions which Jesus has gone to prepare for us. We must not allow our houses and lands, our business transactions and worldly enterprises, to come between us and our God. We should keep before us the rich promises that he has left on record. We should study the great waymarks that point out the times in which we are living. We know that we are very near the close of this earth's history, and everything of a worldly nature should be secondary to the service of God. We should now pray most earnestly that we may be prepared for the struggles of the great day of God's preparation. We should rejoice in the prospect of soon being with Jesus in the mansions he has gone to prepare for us. Jesus can supply your every need, if you will look to him and trust in him. As you behold him, you will be charmed with the riches of the glory of his divine love. The idolatrous love of things that are seen will be superseded by a higher and better love for things that are imperishable and precious. You may contemplate eternal riches until your affections are bound to things above, and you may be an instrument in directing others to set their affections on heavenly treasures. You can help them to see that money spent needlessly is wasted, and worse than wasted; for it might have been used in presenting the truth to souls who are ready to perish. If the spend-thrift is redeemed, it will be by having an object placed before him that will show him the sin of wasting his Lord's goods. The Lord requires his servants to trade upon the goods that he has put in their charge. The talents which he has given to them are to be improved by exercise. The money placed in their hands is to be put out to the exchangers. Souls for whom Christ died need light and truth, and it must be sent to them. We may be the means through which worthy objects may be presented before them in such a way as to win their affection for Christ and heavenly things; and we are responsible for the souls that we might help. Those who rightly value money are those who see its availability in bringing the truth before those who have never heard it, and by this means rescuing them from the power of the enemy. The soul who accepts the truth will find his love for earthly things dislodged. He sees the surpassing glory of heavenly things, and appreciates the excellency of that which relates to everlasting life. He is charmed with the unseen and eternal. His grasp loosens from earthly things; he fastens his eye with admiration upon the invisible glories of the heavenly world. He realizes that his trials are working out for him a far more exceeding and eternal weight of glory, and in comparison to the riches that are his to enjoy, he counts them light afflictions which are but for a moment.
A. R. & S. H.
June 23, 1896