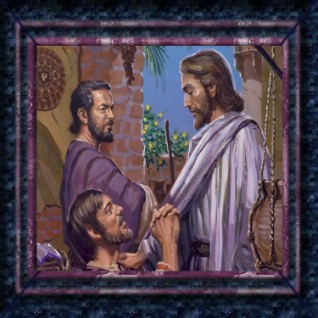 Jesus Kindness
For his merciful kindness is great toward us: and the truth of the LORD endureth for ever. Praise ye the LORD.
Psalms 117:2
That in the ages to come he might show the exceeding riches of his grace in his kindness toward us through Christ Jesus.
Ephesians 2:7
In a little wrath I hid my face from thee for a moment; but with everlasting kindness will I have mercy on thee, saith the LORD thy Redeemer.
Isaiah 54:8
For the mountains shall depart, and the hills be removed; but my kindness shall not depart from thee, neither shall the covenant of my peace be removed, saith the LORD that hath mercy on thee.
Isaiah 54:10
----------------------------------------
Individually, we are to work out our own salvation with fear and trembling. It is God who works in us, and by us, and through us. God's word is the sword of the Spirit, and with a knowledge of revealed truth, which is our spiritual weapon, we must go to work, laboring to pull down the strong-holds of the enemy. The truth must be spoken in love. We must show that we are Christ's followers and that we have learned of Jesus. We must approach the people in the spirit of kindness and affection.
A. R. & S. H.
March 8, 1887
--------------------------------------
I spoke to them in regard to the necessity of receiving Christ as their personal Saviour. When we thus accept him, the beauty of truth will be revealed through us; for in our words and our life it will be presented as it is in Jesus. There will be no strife to see who shall be greatest, but we shall individually seek to represent Christ, and thus let our light shine to the world. If the words of Jesus dwell in us, we shall represent his love, in kindness, in humility, in goodness, coming in close union with the people of God, and working as missionaries of Jesus wherever we have opportunity. Instead of seeking to glorify ourselves, we shall exalt the name that is above every name, Jesus, the center of all attraction.
A. R. & S. H.
February 16, 1892