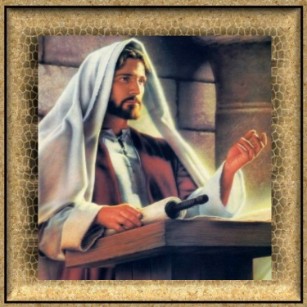 Jesus Words
Jesus answered and said unto him, If a man love me, he will keep my words: and my Father will love him, and we will come unto him, and make our abode with him.
John 14:23
When John the Baptist pointed to Jesus saying, Behold the Lamb of God," the disciples heard him speak, and they followed Jesus.The Saviour "turned, and saw them following, and saith unto them, What seek ye? They said unto him. Rabbi, (which is to say, being interpreted, Master,) where dwellest thou? He saith unto them, Come and see. They came and saw where he dwelt, and abode with him that day: for it was about the tenth hour. One of the two which heard John speak, and followed him, was Andrew, Simon Peter's brother." After hearing the gracious words that proceeded from the lips of Jesus, words that flashed light into their minds, the hearts of the disciples were aglow with faith and assurance that this was indeed the Messiah. With inexpressible love their hearts went out to Jesus, and they did not sit down in happy contemplation, to hear more and more of the gracious words. They wanted others to have the same knowledge they had received. Andrew went in search of some one to whom he might tell the wonderful story, that seemed almost too good to be true. He first found his brother Simon, and said to him, "We have found the Messias;" and he brought him to Jesus. And when Jesus beheld him, he said, "Thou art Simon the son of Jona: thou shalt be called Cephas, which is by interpretation a stone."
1888 Materials 1460
---------------------------------------
For our sake Jesus emptied himself of his glory; he clothed his divinity with humanity that he might touch humanity, that his personal presence might be among us, that we might know that he was acquainted with all our trials, and sympathized with our grief, that every son and daughter of Adam might understand that Jesus is the friend of sinners. But he left not his divinity without a witness. Again and again in his sojourn on earth, divinity flashed through humanity, and the glory of God was manifested among men. At one time the priests and rulers, who hated Christ and who were studying how they might put him to death, sent the officers to take Jesus; but when the officers came into his presence, they were spellbound at his words. They listened entranced to the gracious utterances of his lips, and when they returned without taking him prisoner, the priests and rulers asked, "Why have ye not brought him?" The officers replied. "Never man spake like this man." They had been charmed with his words, which had seemed to them as precious jewels. They had listened in utter forgetfulness of their errand, and had returned pondering his teaching. Divinity had flashed through humanity, and they had been deeply impressed, and would not lay hands upon him.
ST April 18, 1892
---------------------------------------
When his words of instruction have been received, and have taken possession of us, Jesus is to us an abiding presence, controlling our thoughts and actions. We are imbued with the instruction of the greatest Teacher the world ever knew. A sense of human accountability and the value of human influence gives character to our views of life and of daily duties. Jesus Christ is everything to us,--the first, the last, the best in everything. Jesus Christ, his Spirit and character, colors everything; it is the warp and the woof, the very texture of our entire being. The words of Christ are spirit and life. We can not then center our thoughts upon self; it is no more we that live, but Christ that liveth in us, and he is the hope of glory. Self is dead, but Christ is a living Saviour. Continuing to look unto
Jesus, we reflect his image to all around us. We can not stop to consider our disappointments, or even to talk of them; for a more pleasant picture attracts our sight,--the precious love of Jesus. He dwells in us by the word of truth.
ST September 3, 1896
--------------------------------------
The Jews then murmured at him, because he said, "I am the bread which came down from heaven." "And they strove among themselves, saying, How can this man give us his flesh to eat? Then said Jesus unto them, Verily, verily. I say unto you, Except ye eat the flesh of the Son of man, and drink his blood, ye have no life in you. Whoso eateth my flesh, and drinketh my blood, hath eternal life; and I will raise him up at the last day. . . . It is the spirit that quickeneth; the flesh profiteth nothing: the words that I speak unto you, they are spirit, and they are life." The question comes home to us to-day, Are we eating the flesh and drinking the blood of the Son of God? It is by beholding the love of Christ, by drinking it in, by dwelling upon it, that we eat his flesh and drink his blood, becoming partakers of the divine nature. As we meditate upon the truth as it is in Jesus, it becomes more deeply impressed upon the soul. "The words that I speak unto you, they are spirit, and they are life." It is through the ministry of the word, that the saints are to be perfected. But what does it mean that there is so low a standard of piety among those who profess to be followers of Christ? Are the people fed upon the words of Christ? Are the messengers satisfied with preaching a discourse, and leaving the work of ministering to whoever may be inclined to do it? There is earnest work to do out of the desk as well as in it. The sermon may arouse the conscience, but the labor will be lost if the soul is left to settle down into the same state of indifference as before the words were spoken. The messenger is to speak as moved by the Spirit of God, souls through personal labor, and guide the conscience, and fasten the truth in a sure place. The minister has a work to do in the home circle, teaching the members of the family concerning the great love wherewith God hath loved us, that they may know what it is to eat the flesh and drink the blood of the Son of God. When the heart of the messenger is warmed with the love of Jesus, he will have a message to give that will be as a savor of life unto life, or of death unto death. He will not feel that his responsibility is over when he leaves the desk; there is a God-appointed work for him to do as a careful, tender shepherd of the flock of God. If he is a heaven-sent messenger, the truth will be in him as fire shut up in his bones, and it will be continually shining to enlighten those who are ignorant of what Jesus is to them, and of what they are to Jesus. He will teach them that the only way to reach the heaven above, is to cling to Jesus, day by day, hour by hour, mounting step by step to the heights of Christ.
B.E.ST.
April 1, 1892