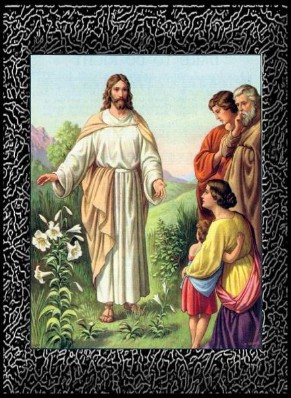 Jesus,
Lily Of The
Valley
I am the rose of Sharon,
and the lily of the valleys.
Song of Solomon 2:1
Jesus plucked the beautiful lily, and placed it in the hands of children and youth; and as they looked into His own youthful face, fresh with the sunlight of His Father's countenance, He gave the lesson, "Consider the lilies of the field, how they grow in the simplicity of natural beauty; they toil not, neither do they spin; and yet I say unto you, that even Solomon in all his glory was not arrayed like one of these." Then followed the sweet assurance and the important lesson, "Wherefore, if God so clothe the grass of the field, which today is, and tomorrow is cast into the oven, shall He not much more clothe you, O ye of little faith?"
COL 19
----------------------------------
Consider, says Jesus, how the lilies grow; how, springing from the cold, dark earth, or from the mud of the river bed, the plants unfold in loveliness and fragrance. Who would dream of the possibilities of beauty in the rough brown bulb of the lily? But when the life of God, hidden therein, unfolds at His call in the rain and the sunshine, men marvel at the vision of grace and loveliness. Even so will the life of God unfold in every human soul that will yield itself to the ministry of His grace, which, free as the rain and the sunshine, comes with its benediction to all. It is the word of God that creates the flowers, and the same word will produce in you the graces of His Spirit.
TMB 9
----------------------------------
The Lord Jesus would have the true philosophy of nature's great lesson book opened before the mind. Parents, take time to teach your children to distinguish between the genuine and the artificial. Christ points us to the lily of the field, telling us to learn from it a lesson of simplicity and trust in God. 1905.
MR Volume Three P 343