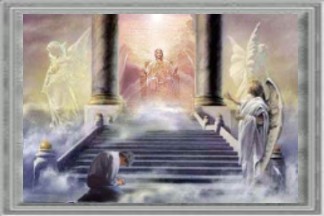 Jesus Is
God
I and my Father are one.
John 10:30
And Simon Peter answered and said, Thou art the Christ, the Son of the living God.
Matthew 16:16
Therefore the Jews sought the more to kill him, because he not only had broken the Sabbath, but said also that God was his Father, making himself equal with God.
John 5:18
Who, being in the form of God, thought it not robbery to be equal with God:
Philippians 2:6
But Jesus held his peace. And the high priest answered and said unto him, I adjure thee by the living God, that thou tell us whether thou be the Christ, the Son of God.
Matthew 26:63
When Jesus heard that, he said, This sickness is not unto death, but for the glory of God, that the Son of God might be glorified thereby.
John 11:4
But he, being full of the Holy Ghost, looked up stedfastly into heaven, and saw the glory of God, and Jesus standing on the right hand of God,
Acts 7:55
In the beginning was the Word, and the Word was with God, and the Word was God.
The same was in the beginning with God.
All things were made by him; and without him was not any thing made that was made.
In him was life; and the life was the light of men.
And the light shineth in darkness; and the darkness comprehended it not.
John 1:1-5
And I saw, and bare record that this is the Son of God.
John 1:34
And looking upon Jesus as he walked, he saith, Behold the Lamb of God!
John 1:36
---------------------------------------
Again men multiplied upon the earth, and again they took the attitude of rebellion against God. Loyalty to the law of God was not only condemned, but punished as a crime. Men made void the law, and naturalized the principles of sin. Those who did not disregard the law of God were subject to the strongest enmity; for every species of sin was legalized. Satan boasted before the angels of heaven that he held dominion over the creation of God. The unity of society was made by enmity to God. A corrupt harmony existed among men in their aversion to God, which bound them together in one vast army. The universe of heaven, and the angels of God, were watching for the exhibition of justice, but when the unfallen worlds expected retribution to be administered, mercy prevailed, and the counsel of God was with the Prince of heaven. He was to unfold the scheme of redemption, to make manifest the plan of salvation. He who was equal with God, who was great in counsel, mighty in working, was equal to the emergency that had arrived in the government of God. God sent his Son into the world, not to pass sentence of condemnation upon a rebellious race, but to make manifest his love, and to hold out the hope of eternal life to those who should believe in his Son.
ST March 5,1896
---------------------------------------
To the present time, men insist on being saved in some way by which they may perform some important work. If they see there is no way in which to weave self into the work, they reject the salvation provided. They trample under foot the Son of God, and count the blood of the covenant wherewith he was sanctified as an unholy thing. Jesus could give alone security to God; for he was equal with God. He alone could be a mediator between God and man; for he possessed divinity and humanity. Jesus could thus give security to both parties for the fulfillment of the prescribed conditions. As the Son of God he gives security to God in our behalf, and as the eternal Word, as one equal with the Father, he assures us of the Father's love to usward who believe his pledged word. When God would assure us of his immutable counsel of peace, he gives his only begotten Son to become one of the human family, forever to retain his human nature as a pledge that God will fulfill his word.
A. R. & S. H.
April 3,1894
------------------------------------
Our great Exemplar was exalted to be equal with God. He was high commander in heaven. All the holy angels delighted to bow before Him. "And again, when He bringeth in the First-begotten into the world, He saith, And let all the angels of God worship Him." Jesus took upon Himself our nature, laid aside His glory, majesty, and riches to perform his mission, to save that which was lost. He came not to be ministered unto, but to minister unto others. Jesus, when reviled, abused, and insulted, did not retaliate. "Who, when He was reviled, reviled not again." When the cruelty of man caused Him to suffer painful stripes and wounds, He threatened not, but committed Himself to Him who judgeth righteously. The apostle Paul exhorted his Philippian brethren: "Let this mind be in you, which was also in Christ Jesus: who, being in the form of God, thought it not robbery to be equal with God: but made Himself of no reputation, and took upon Him the form of a servant, and was made in the likeness of men." Is the servant greater than his master? Christ has given us His life as a pattern, and we dishonor Him when we become jealous of every slight, and are ready to resent every injury, supposed or real. It is not an evidence of a noble mind to be prepared to defend self, to preserve our own dignity. We would better suffer wrongfully a hundred times than wound the soul by a spirit of retaliation, or by giving vent to wrath. There is strength to be obtained of God. He can help. He can give grace and heavenly wisdom. If you ask in faith, you will receive; but you must watch unto prayer. Watch, pray, work, should be your watchword.
T. Volume Two 426