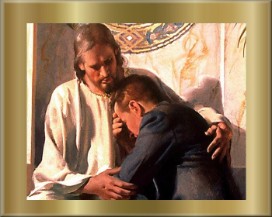 Jesus Is Lord
Of My Life
A Psalm of David. The LORD is my light and my salvation; whom shall I fear? the LORD is the strength of my life; of whom shall I be afraid?
Psalms 27:1
One thing have I desired of the LORD, that will I seek after; that I may dwell in the house of the LORD all the days of my life, to behold the beauty of the LORD, and to inquire in his temple.
Psalms 27:4
O Lord, thou hast pleaded the causes of my soul; thou hast redeemed my life.
Lamentations 3:58
-----------------------------------
"I will praise thee with my whole heart: before the gods will I sing praise unto thee. I will worship toward thy holy temple, and praise thy name for thy loving kindness and for thy truth: for thou hast magnified thy word above all thy name. In the day when I cried thou answeredst me, and strengthenedst me with strength in my soul. All the kings of the earth shall praise thee, O Lord, when they hear the words of thy mouth. Yea, they shall sing in the ways of the Lord: for great is the glory of the Lord. Though the Lord be high, yet hath he respect unto the lowly: but the proud he knoweth afar off." Then let not a semblance of pride or self-importance be cherished, for it will crowd Jesus out of the heart, and the vacuum will be filled with the attributes of Satan. "O send out thy light and thy truth: let them lead me; let them bring me unto thy holy hill, and to thy tabernacles. Then will I go unto the altar of God, unto God my exceeding joy: yea, upon the harp will I praise thee, O God my God." "Why art thou cast down, O my soul? and why art thou disquieted within me? hope thou in God: for I shall yet praise him, who is the health of my countenance, and my God."
A. R. & S. H.
August 4,1891
--------------------------------
When my eldest son was sixteen years old, he was stricken down in sickness. His case was considered critical, and he called us to his bedside, and said, "Father, Mother, it will be hard for you to part with your eldest son. If the Lord sees fit to spare my life, for your sake I will be pleased. If it is for my good and His name's glory for my life to close now, I will say, It is well with my soul. Father, go by yourself, and Mother, go by yourself; and pray. Then you will receive an answer according to the will of my Saviour, whom you love and I love." He was afraid that if we should bow together, our sympathies would strengthen, and we would ask for that which it would not be best for the Lord to grant. . . . We received no evidence that our son would recover. He died, putting his full trust in Jesus our Saviour. His death was a great blow to us, but it was a victory even in death; for his life was hid with Christ in God.
FLB 172
--------------------------------
My physical strength had been prostrated by the blow, yet the power of divine grace sustained me in my great bereavement. When I saw my husband breathe his last, I felt that Jesus was more precious to me than He ever had been in any previous hour of my life. When I stood by my first-born, and closed his eyes in death, I could say, "The Lord gave, and the Lord hath taken away; blessed be the name of the Lord." And I felt then that I had a comforter in Jesus. And when my latest born was torn from my arms, and I could no longer see its little head upon the pillow by my side, then I could say, "The Lord gave, and the Lord hath taken away; blessed be the name of the Lord." And when he upon whose large affections I had leaned, with whom I had labored for thirty-five years, was taken away, I could lay my hands upon his eyes, and say, "I commit my treasure to Thee until the morning of the resurrection."
When I saw him passing away, and saw the many friends sympathizing with me, I thought: What a contrast to the death of Jesus as He hung upon the cross! What a contrast! In the hour of His agony, the revilers were mocking and deriding Him. But He died, and He passed through the tomb to brighten it, and to lighten it, that we might have joy and hope even in the event of death; that we might say, as we lay our friends away to rest in Jesus, "We shall meet them again."
LS 25