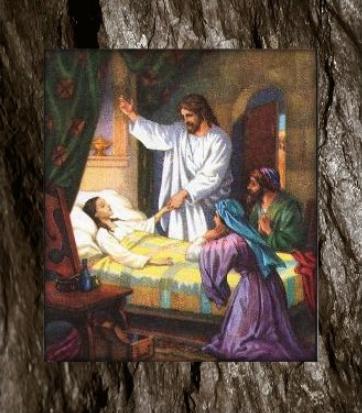 Jesus Healing


Power
And Jesus went about all
the cities and villages, teaching in their synagogues, and preaching the gospel of the kingdom, and healing every sickness and every disease among the people.
Matthew 9:35
Christ preached in their synagogues throughout Galilee, healing the sick, casting out devils, comforting the afflicted, and relieving the despairing. While many, bearing their burdens of those diseased, were pressing through the multitude, to Christ, for him to heal them, there was an unusual commotion among the people. The pressing multitude gave way, falling back. A leper, who was a most loathsome spectacle, was making his way to Christ. Some thought to turn him back from approaching Jesus, as they feared that the people might become infected. But he was as one who neither saw them, nor heard them. The expressions of loathing that came from many lips, did not move him nor turn him from his course. He had but one object in view. His eye saw only the divine Son of God. His ear heard nothing but the voice that was speaking health and happiness to the unfortunate and suffering. As he came into the presence of Jesus, his pent-up feelings, which had been of hopeless despair and agony, now found vent, as a ray of hope lighted up his terrible darkness. He wailed out to Christ his beseeching cry for pity and mercy. He had been loathed and shunned by his fellow-mortals.
He had been separated from his family, and was mourned for by them as one far worse than dead. His case had been pronounced incurable. In the greatest humility, he prostrated his consuming, dying, and yet living, breathing, body at the feet of the only One who could save him. His earnest cry to Christ was, If thou wilt, thou canst save me--even me, corrupted and loathsome as I am. Thou canst make me clean. "And Jesus, moved with compassion, put forth his hand and touched him, and saith unto him, I will; be thou clean." The eager multitude now lose their terror, and again venture to draw nigh to Jesus, to behold this new and wonderful manifestation of his power. But Jesus had no sooner spoken the word of life-giving power, than the half-dead body of putrefaction was changed to healthy flesh, sensitive nerves, and firm muscle. The people witnessed this transformation with speechless amazement and awe.
Redemption 71
--------------------------------------
But Martha objected to the stone being removed, and reminded Jesus that the body had been buried four days, and that corruption had already commenced its work. Jesus answered her reproachfully: "Said I not unto thee, that, if thou wouldest believe, thou shouldest see the glory of God?" The stone was then taken away, and the dead was revealed to sight. It was evident to all that putrefaction had really commenced. All is now done that lies in the power of man to do. The friends gather round with mingled curiosity and awe to see what Jesus is about to do. Lifting up his eyes, the Saviour prayed:--
"Father, I thank thee that thou hast heard me. And I knew that thou hearest me always; but because of the people which stand by I said it, that they may believe that thou hast sent me." The hush that followed this prayer was broken by Jesus crying out with a loud voice, "Lazarus, come forth." Instantly life animates that form which had been so changed by decay that the friends of the deceased recoiled from looking upon it. Lazarus, bound hand and foot with grave-clothes, and with a napkin about his face, rises, obedient to the command of his Saviour, and attempts to walk, but is impeded by the winding-sheet. Jesus commands his friends to "loose him, and let him go."
Human hands are again brought into requisition to do the work which it is possible for them to do. The burial clothes which bear evidence of the corruption of the body are removed, and Lazarus stands before them, not as one emaciated from disease, and with feeble, tottering limbs, but as a man in the prime of life, and in the vigor of a noble manhood, his eyes beaming with intelligence and love for his Saviour. He bows at the feet of Jesus and glorifies him. A dumb surprise at first seizes all present; but now succeeds an inexpressible scene of rejoicing and thanksgiving. The sisters receive their brother back to life as the gift of God, and with joyful tears, brokenly express their thanks and praise to the Saviour. But while brother, sisters, and friends are rejoicing in this reunion, Jesus retires from the exciting scene, and when they look for the Lifegiver, he is nowhere to be found.
SP Volume Two 365
----------------------------------------
This was the only interview that Jesus had with many of the believers after His resurrection. He came and spoke to them saying, "All power is given unto Me in heaven and in earth." The disciples had worshiped Him before He spoke, but His words, falling from lips that had been
closed in death, thrilled them with peculiar power. He was now the risen Saviour. Many of them had seen Him exercise His power in healing the sick and controlling satanic agencies. They believed that He possessed power to set up His kingdom at Jerusalem, power to quell all opposition, power over the elements of nature. He had stilled the angry waters; He had walked upon the white-crested billows; He had raised the dead to life. Now He declared that "all power" was given to Him. His words carried the minds of His hearers above earthly and temporal things to the heavenly and eternal. They were lifted to the highest conception of His dignity and glory.
DA 819
-------------------------------------
He entered the synagogue, and saw there a man who had a withered hand. The Pharisees watched him, eager to see what he would do with regard to this case--whether or not he would heal the man upon the Sabbath day. Their sole object was to find cause for accusation against him. Jesus looked upon the man with the withered hand, and commanded him to stand forth. He then asked, "Is it lawful to do good on the Sabbath days, or to do evil? to save life, or to kill? But they held their peace. And when he had looked round about on them with anger, being grieved for the hardness of their hearts, he saith unto the man, Stretch forth thine hand. And he stretched it out; and his hand was restored whole as the other."
SP Volume Two P 198