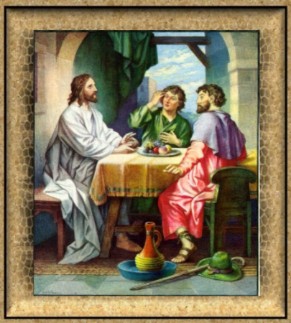 Jesus Our Master
And Peter answered and said to Jesus, Master, it is good for us to be here: and let us make three tabernacles; one forthee, and one for Moses, and one for Elias.
Mark 9:5
And Jesus said, Who touched me? When all denied, Peter and they that were with him said, Master, the multitude throng thee and press thee, and sayest thou, Who touched me?
Luke 8:45
-------------------------------------
And they lifted up their voices, and said, Jesus, Master, have mercy on us.
Luke 17:13
------------------------------------
Then Jesus turned, and saw them following, and saith unto them, What seek ye? They said unto him, Rabbi, (which is to say, being interpreted, Master,) where dwellest thou?
John 1:38
-------------------------------------
It was the world that crucified the Lord of life and glory. Jesus was put to death to gratify the malice of the Jews, who were filled with the spirit and principles of the world. They hated the spotless Son of God, because the principles he presented did not harmonize with their ideas, --did not coincide with their ambitious aims. They hated him because he condemned all guile, frowned upon every unholy practice, and rebuked their self-seeking policy and love of supremacy. Pilate and Herod became friends in crucifying Jesus Christ. Notwithstanding Pilate had pronounced him innocent, he gratified the enmity of the Jews, by consenting to the death of one who was guiltless. Even the disciples of Christ were swayed from their allegiance to Christ by the enmity of the world. Judas betrayed his Lord for thirty pieces of silver, and Peter denied him in his humiliation in the judgment-hall. A few hours before, he had, with great firmness, assured his Master that though all men should deny him, he would not; but that he was ready to go with him to prison and to death. In his self-confidence he would not hear to the truth that he would deny his Master thrice ere the cock should crow. He was so self-confident that he would not receive the word of Christ as verity and truth. How little he knew himself! In the very hour when he should have watched with Jesus, lifting his heart to heaven in prayer, he denied his Master. When accused of being one of the disciples of Jesus, he declared that he knew not the man; and as the charge was made again and again, he finally emphasized his denial with cursing and swearing. Then Jesus turned and looked upon Peter. That glance was full of sadness and grief, but not of despair. It broke the heart of Peter, and sent him forth to weep bitterly in repentance of his sin.
A. R. & S. H.
February 26,1895
-----------------------------------
When the enemy tells you that you are a sinner, tell him, "Yes, I know it." The accuser of the brethren told the repenting publican that he was a sinner, and he dared not so much as lift up his eyes to heaven, but cried, "Lord, be merciful to me a sinner," and he went down to his house justified. If you are a sinner, you need to seek Jesus. Your coming will not be unwelcome to him, for he invites all those that are weary and heavy laden to come to him, and find rest unto their souls. In the days when Christ was upon earth, certain Greeks came, saying, "Sir, we would see Jesus." All about the Master were those who were cruel and vindictive, who were seeking an opportunity to put Jesus out of the way, who rejected the Lord of glory, and how welcome was the request to see Jesus. The Master's heart warmed with satisfaction that someone wanted to see Jesus. When the voice of God speaks to the heart, and the heart responds to it, we shall hear the inquiry, "Sir I would see Jesus." Heaven is all ready to receive those who would see Jesus. And now let us come to him, asking for the very things we need, believing that we shall receive them. "Now faith is the substance of things hoped for, the evidence of things not seen."
ST April 11, 1892
------------------------------------
When Christ was upon earth, the Pharisees made bitter complaint against him because he was the friend of publicans and sinners. They said to his disciples, "Why eateth your Master with publicans and sinners? But when Jesus heard that, he said unto him, They that be whole need not a physician, but they that are sick." The Pharisees felt that they were whole; they felt that they were rich and increased with goods and had need of nothing, and knew not that they were poor and miserable and blind and naked and wretched. They were satisfied with their moral condition; but Jesus said, "I came not to call the righteous, but sinners to repentance." It is the needy that Jesus is seeking. Brethren and sisters, do you feel that you are needy? Are you saying, as did the Greeks that came to Jerusalem, "We would see Jesus"? The Greeks came to seek Jesus at a time when the Pharisees were upon his track, trying by every possible way to find something whereby they could accuse, condemn, and kill him. How grateful was the sincere desire and confidence of the Greeks to the Master at this time of trial and sorrow. The Greeks wanted to see him because they had heard of his mighty works, they had heard of his wisdom and truth; and they believed on him, for they had searched the prophecies and felt assured that he was the desire of their hearts.
B.E.S.T. May 15,1892