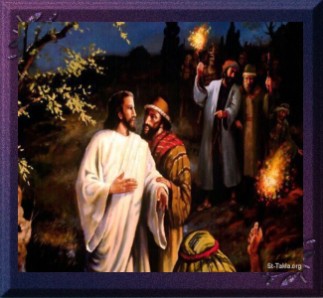 Jesus
Betrayed
And while they abode in Galilee, Jesus said unto them, The Son of man shall be betrayed into the hands of men:
Matthew 17:22
They answered him, Jesus of Nazareth. Jesus saith unto them, I am he. And Judas also, which betrayed him, stood with them.
John 18:5
As they realized the import of His words, and remembered how true His sayings were, fear and self-distrust seized them. They began to search their own hearts to see if one thought against their Master were harbored there. With the most painful emotion, one after another inquired, "Lord, is it I?" But Judas sat silent. John in deep distress at last inquired, "Lord, who is it?" And Jesus answered, "He that dippeth his hand with Me in the dish, the same shall betray Me. The Son of man goeth as it is written of Him: but woe unto that man by whom the Son of man is betrayed! it had been good for that man if he had not been born." The disciples had searched one another's faces closely as they asked, "Lord, is it I?" And now the silence of Judas drew all eyes to him. Amid the confusion of questions and expressions of astonishment, Judas had not heard the words of Jesus in answer to John's question. But now, to escape the scrutiny of the disciples, he asked as they had done, "Master, is it I?" Jesus solemnly replied, "Thou hast said."
DA 654
---------------------------------------
In pronouncing the woe upon Judas, Christ also had a purpose of mercy toward His disciples. He thus gave them the crowning evidence of His Messiahship. "I tell you before it come," He said, "that, when it is come to pass, ye may believe that I AM." Had Jesus remained silent, in apparent ignorance of what was to come upon Him, the disciples might have thought that their Master had not divine foresight, and had been surprised and betrayed into the hands of the murderous mob. A year before, Jesus had told the disciples that He had chosen twelve, and that one was a devil. Now His words to Judas, showing that his treachery was fully known to his Master, would strengthen the faith of Christ's true followers during His humiliation. And when Judas should have come to his dreadful end, they would remember the woe that Jesus had pronounced upon the betrayer.
DA 655
---------------------------------------
And now they hear the heavy tramp of soldiers in the garden. "Behold," said Christ, "the Son of man is betrayed into the hands of sinners. Rise up; let us go; lo, he that betrayeth me is at hand. And immediately, while he yet spake, cometh Judas, one of the twelve, and with him a great multitude with swords and staves, from the chief priests and the scribes and the elders. And he that betrayed him had given them a token, saying, Whomsoever I shall kiss, that same is he; take him, and lead him away safely." Judas believed that Christ would not permit himself to be taken. "And as soon as he was come, he goeth straightway to him, and saith, Master, Master; and kissed him." "But Jesus saith unto Judas, Betrayest thou the Son of man with a kiss?"
ST December 9,1897
---------------------------------------
Judas now cast himself at the feet of Jesus, acknowledging Him to be the Son of God, and entreating Him to deliver Himself. The Saviour did not reproach His betrayer. He knew that Judas did not repent; his confession was forced from his guilty soul by an awful sense of condemnation and a looking for of judgment, but he felt no deep, heartbreaking grief that he had betrayed the spotless Son of God, and denied the Holy One of Israel. Yet Jesus spoke no word of condemnation. He looked pityingly upon Judas, and said, For this hour came I into the world.
DA 722
----------------------------------------
Even now this decision is being made. The scenes enacted at the cross are being re-enacted. In the churches that have departed from truth and righteousness it is being revealed what human nature can do and will do when the love of God is not an abiding principle in the soul. We need not be surprised at anything that may take place now. We need not marvel at any developments of horror. Those who trample under their unholy feet the law of God have the same spirit as had the men who insulted and betrayed Jesus. Without any compunction of conscience, they will do the deeds of their father, the devil. They will ask the question that came from the traitorous lips of Judas, What will you give me if I betray unto you Jesus the Christ?
A. R. & S. H.
January 30,1900