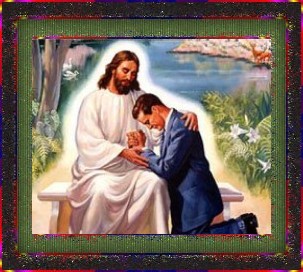 Jesus Love
Jesus answered and said unto him, If a man love me, he will keep my words: and my Father will love him, and we will come unto him, and make our abode with him.
John 14:23
Nor height, nor depth, nor any other creature, shall be able to separate us from the love of God, which is in Christ Jesus our Lord.
Romans 8:39
The Lord God of heaven collected all the riches of the universe, and laid them down in order to purchase the pearl of lost humanity. The Father gave all his divine resources into the hands of Christ in order that the richest blessings of heaven might be poured out upon a fallen race. God could not express greater love than he has expressed in giving the Son of his bosom to this world. This gift was given to man to convince him that God had left nothing undone that he could do, that there is nothing held in reserve, but that all heaven has been poured out in one vast gift. The present and eternal happiness of man consists in receiving God's love, and in keeping God's
commandments. Christ is our Redeemer. He is the Word that became flesh and dwelt among us. He is the fountain in which we may be washed and cleansed from all impurity. He is the costly sacrifice that has been given for the reconciliation of man. The universe of heaven, the worlds unfallen, the fallen world, and the confederacy of evil cannot say that God could do more for the salvation of man than he has done. Never can his gift be surpassed, never can he display a richer depth of love. Calvary represents his crowning work. It is man's part to respond to his great love, by appropriating the great salvation the blessing of the Lord has made it possible for man to obtain. We are to show our appreciation of the wonderful gift of God by becoming partakers of the divine nature, having escaped the corruption that is in the world through lust. We are to show our gratitude to God by becoming a co-worker with Jesus Christ, by representing his character to the world. In great mercy the Lord has rolled back the thick darkness from before his throne, that we may behold him as a God of love.
YI October 17,1895
---------------------------------
"These things have I spoken unto you, that my joy might remain in you, and that your joy might be full. This is my commandment, That ye love one another, as I have loved you. Greater love hath no man than this, that a man lay down his life for his friends. Ye are my friends, if ye do whatsoever I command you. Henceforth I call you not servants; for the servant knoweth not what his lord doeth; but I have called you friends; for all things that I have heard of my Father I have made known unto you." The joy of the Christian is not found in transgression of the law of God, but in obedience of all its precepts. None are in slavery and bondage to the law but those who transgress it. Obedience produces love to God and man--the two great principles of the law of God. This obedience and this love brings fullness of joy to the disciples of Jesus. He still impresses upon them the importance of carrying forward the work which he has begun, and bearing fruit to the glory of God.
ST January 24,1878
------------------------------------
Man was God's workmanship, made after his image, endowed with talents, and fitted for a high destiny. But Satan has worked to obliterate the divine image, and to impress his own image instead of the image of God in man's nature. Jesus condescended to humble himself, to take human nature, and by uniting divinity with humanity, he proposed to elevate man in the scale of moral value. All heaven was poured out in the gift of God's dear Son. Through faith in him the sinner could be justified, and God could yet be just in justifying the sinner; for Christ had become a propitiation for the sins of the repentant soul. The only plan that could be devised to save the human race was that which called for the incarnation, humiliation, and crucifixion of the Son of God, the Majesty of heaven. After the plan of salvation was devised, Satan could have no ground upon which to found his suggestion that God, because so great, could care nothing for so insignificant a creature as man. The redemption of man is a wonderful theme, and the love manifested to the fallen race through the plan of salvation, can be estimated only by the cross of Calvary. The depth of this love even angels cannot sound. That God could consent to become flesh, and dwell among fallen beings, to lift them up
from their helplessness and despair, is an unfathomed mystery. He whose kingdom is an everlasting kingdom, whose dominion endureth throughout all generations, made himself to be sin for us that he might lift up all that are bowed down, and give life to those who are ready to perish.
ST January 20,1890
------------------------------------
John was the disciple whom Jesus loved, because he was believing and trustful, and loved his Master with devotion. His love for Christ was characterized by simplicity and ardor. There are many who think that this love for Christ was something natural to the character of John, and the disciple is frequently represented by the artist as of a soft, languid, feminine appearance, but such representations are incorrect. John and his brother were called the "sons of thunder." John was a man of decided character, but he had learned lessons from the great Teacher. He had defects of character, and any slight shown to Jesus aroused his indignation and combativeness. His love for Christ was the love of a soul saved through the merits of Jesus; but with this love there were natural evil traits that had to be overcome. At one time he and his brother claimed the right to the highest position in the kingdom of heaven, and at another he forbade a man to cast out devils and heal diseases because he followed not with the disciples. At another time when he saw his Lord slighted by the Samaritans he wanted to call down fire from heaven to consume them. But Christ rebuked him, saying, "The Son of man is not come to destroy men's lives, but to save them."
ST April 20,1891