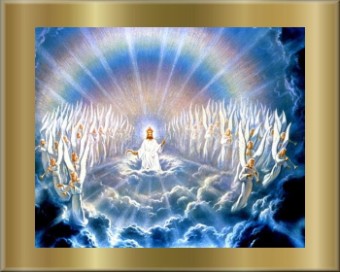 Jesus Is Coming
And if I go and prepare a place for you, I will come again, and receive you unto myself; that where I am, there ye may be also.
John 14:3
Jesus saith unto him, Thou hast said: nevertheless I say unto you, Hereafter shall ye see the Son of man sitting on the right hand of power, and coming in the clouds of heaven.
Matthew 26:64
To the end he may stablish your hearts unblameable in holiness before God, even our Father, at the coming of our Lord Jesus Christ with all his saints.
1 Thessalonians 3:13
For we have not followed cunningly devised fables, when we made known unto you the power and coming of our Lord Jesus Christ, but were eyewitnesses of his majesty.
2 Peter 1:16
So that ye come behind in no gift; waiting for the coming of our Lord Jesus Christ:
1 Corinthians 1:7
---------------------------------
Soon our eyes were drawn to the East, for a small black cloud had appeared about half as large as a man's hand, which we all knew was the Sign of the Son of Man. We all in solemn silence gazed on the cloud as it drew nearer, lighter, and brighter, glorious, and still more glorious, till it was a great white cloud. The bottom appeared like fire, a rainbow was over it, around the cloud were ten thousand angels singing a most lovely song. And on it sat the Son of Man, on his head were crowns, his hair was white and curly and lay on his shoulders. His feet had the appearance of fire, in his right hand was a sharp sickle, in his left a silver trumpet. His eyes were as a flame of fire, which searched his children through and through. Then all faces gathered paleness, and those that God had rejected gathered blackness. Then we all cried out, who shall be able to stand? Is my robe spotless? Then the angels ceased to sing, and there was some time of awful silence, when Jesus spoke, Those who have clean hands and a pure heart shall be able to stand, my grace is sufficient for you. At this, our faces lighted up, and joy filled every heart. And the angels struck a note higher and sung again while the cloud drew still nearer the earth. Then Jesus' silver trumpet sounded, as he descended on the cloud, wrapped in flames of fire. He gazed on the graves of the sleeping saints then raised his eyes and hands to heaven & cried out, Awake! Awake! Awake! ye that sleep in the dust, and arise. Then there was a mighty earthquake. The graves opened, and the dead came up clothed with immortality. The 144,000 shouted, Hallelujah! as they recognized their friends who had been torn from them by death, and in the same moment we were changed and caught up together with them to meet the Lord in the air. We all entered the cloud together, and were 7 days ascending to the sea of glass, when Jesus brought along the crowns and with his own right hand placed them on our heads. He gave us harps of gold and palms of victory. Here on the sea of glass the 144,000 stood in a perfect square. Some of them had very bright crowns, others not so bright. Some crowns appeared hung with stars, while others had but few. All were perfectly satisfied with their crowns. And they were all clothed with a glorious white mantle from their shoulders to their feet. Angels were all about us as we marched over the sea of glass to the gate of the City. Jesus raised his mighty glorious arm, laid hold of the gate and swung it back on its golden hinges, and said to us, You have washed your robes in my blood, stood stiffly for my truth, enter in. We all marched in and felt we had a perfect right in the City. Here we see the tree of life, & the throne of God.
TDS January 24, 1846
--------------------------------------- We are to be diligent workers; an idle man is a miserable creature. But what excuse can be offered for idleness in the great work which Christ gave his life to accomplish? The spiritual faculties cease to exist if they are not exercised, and it is Satan's design that they shall perish. All heaven is actively engaged in the work of preparing a people for the second coming of Christ to our world, and "we are laborers together with God." The end of all things is at hand. Now is our opportunity to work. "The night cometh, in which no man can work." We should proclaim Christ and him crucified, thus preparing the way for his second appearing. Lift him up, the Man of Calvary. Place yourselves where you may receive heavenly inspiration and be able to point the weary, the heavy-laden, the brokenhearted, the perplexed soul, to Jesus, the source of all spiritual strength. Be faithful minutemen, to show forth the praises of Him who hath called you out of darkness into his marvelous light. With pen and voice proclaim that Jesus lives to make intercession for us. Unite with the great Master-worker, follow the self-denying Redeemer through his pilgrimage of love on earth. The same Jesus that walked with his disciples, that taught them upon earth, that toiled and suffered in his human nature, is with us in his divine power. He is at our right hand to help in every emergency. Let us lift up Jesus, and reveal the Bible foundation for our faith. We are all to proclaim the commandments of God and the faith of Jesus. Jesus came to magnify the law, and make it honorable. He died to exalt the law of God, testifying of its changeless character; and as we proclaim God's law, we may look unto Jesus and be comforted with the assurance, "Lo, I am with you always, even unto the end of the world."
A. R. & S. H.
January 24,1893
----------------------------------------
And the second appearing of our Lord and Saviour Jesus Christ is to be kept fresh before the minds of the people. Let all understand this. Jesus is coming again. The same Jesus that ascended into heaven, escorted by the heavenly host, is coming again. The same Jesus who has been our Advocate, our friend at court, pleading the cases of all who accept Him as their Saviour, will come the second time to be admired in all them that believe.
MR Volume Seventeen 2