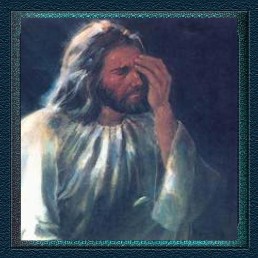 Jesus Sorrow
He is despised and rejected of men; a man of sorrows, and acquainted with grief: and we hid as it were our faces from him; he was despised, and we esteemed him not.
Isaiah 53:3
Yet it pleased the LORD to bruise him; he hath put him to grief: when thou shalt make his soul an offering for sin, he shall see his seed, he shall prolong his days, and the pleasure of the LORD shall prosper in his hand.
Isaiah 53:10
And being in an agony he prayed more earnestly: and his sweat was as it were great drops of blood falling down to the ground.
Luke 22:44
----------------------------------
But before the crown must come the cross. Not the inauguration of Christ as king, but the decease to be accomplished at Jerusalem, is the subject of their conference with Jesus. Bearing the weakness of humanity, and burdened with its sorrow and sin, Jesus walked alone in the midst of men. As the darkness of the coming trial pressed upon Him, He was in loneliness of spirit, in a world that knew Him not. Even His loved disciples, absorbed in their own doubt and sorrow and ambitious hopes, had not comprehended the mystery of His mission. He had dwelt amid the love and fellowship of heaven; but in the world that He had created, He was in solitude. Now heaven had sent its messengers to Jesus; not angels, but men who had endured suffering and sorrow, and who could sympathize with the Saviour in the trial of His earthly life. Moses and Elijah had been colaborers with Christ. They had shared His longing for the salvation of men. Moses had pleaded for Israel: "Yet now, if Thou wilt forgive their sin--; and if not, blot me, I pray Thee, out of Thy book which Thou hast written." Ex. 32:32. Elijah had known loneliness of spirit, as for three years and a half of famine he had borne the burden of the nation's hatred and its woe. Alone he had stood for God upon Mount Carmel. Alone he had fled to the desert in anguish and despair. These men, chosen above every angel around the throne, had come to commune with Jesus concerning the scenes of His suffering, and to comfort Him with the assurance of the sympathy of heaven. The hope of the world, the salvation of every human being, was the burden of their interview.
DA 422
----------------------------------------
I then viewed Jesus in the garden with his disciples. In deep sorrow he bade them watch and pray lest they should enter into temptation.
Jesus knew that their faith was to be tried, and their hopes disappointed, and that they would need all the strength they could obtain by close watching and fervent prayer. With strong cries and weeping, Jesus prayed, Father, if thou be willing, remove this cup from me, nevertheless, not my will, but thine be done. The Son of God prayed in agony. Large drops of sweat like blood came out of his face, and fell upon the ground. Angels were hovering over the place, witnessing the scene, while only one was commissioned to go and strengthen the Son of God in his agony. The angels in heaven cast their crowns and harps from them, and with the deepest interest silently watched Jesus. There was no joy in heaven. They wished to surround the Son of God, but the commanding angels suffered them not, lest, as they should behold his betrayal, they would deliver him; for the plan was laid out, and it must be fulfilled.
SG Volume 1 46
---------------------------------------
Blessed are they also who weep with Jesus in sympathy with the world's sorrow and in sorrow for its sin. In such mourning there is intermingled no thought of self. Jesus was the Man of Sorrows, enduring heart anguish such as no language can portray. His spirit was torn and bruised by the transgressions of men. He toiled with self-consuming zeal to relieve the wants and woes of humanity, and His heart was heavy with sorrow as He saw multitudes refuse to come to Him that they might have life. All who are followers of Christ will share in this experience. As they partake of His love they will enter into His travail for the saving of the lost. They share in the sufferings of Christ, and they will share also in the glory that shall be revealed. One with Him in His work, drinking with Him the cup of sorrow, they are partakers also of His joy.
TMB 12