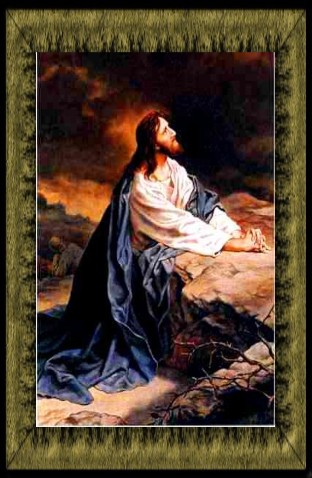 Jesus And
Prayer
And it came to pass, that, as he was praying in a certain place, when he ceased, one of his disciples said unto him, Lord, teach us to pray, as John also taught his disciples.
Luke 11:1
But I say unto you, Love your enemies, bless them that curse you, do good to them that hate you, and pray for them which despitefully use you, and persecute you;
Matthew 5:44
I pray for them: I pray not for the world, but for them which thou hast given me; for they are thine.
John 17:9
And when thou prayest, thou shalt not be as the hypocrites are: for they love to pray standing in the synagogues and in the corners of the streets, that they may be seen of men. Verily I say unto you, They have their reward. But thou, when thou prayest, enter into thy closet, and when thou hast shut thy door, pray to thy Father which is in secret; and thy Father which seeth in secret shall reward thee openly. But when ye pray, use not vain repetitions, as the heathen do: for they think that they shall be heard for their much speaking.
Matthew 6:5-7
Then cometh Jesus with them unto a place called Gethsemane, and saith unto the disciples, Sit ye here, while I go and pray yonder.
Matthew 26:36
After this manner therefore pray ye: Our Father which art in heaven, Hallowed be thy name. Thy kingdom come. Thy will be done in earth, as it is in heaven. Give us this day our daily bread. And forgive us our debts, as we forgive our debtors. And lead us not into temptation, but deliver us from evil: For thine is the kingdom, and the power, and the glory, for ever. Amen. For if ye forgive men their trespasses, your heavenly Father will also forgive you: But if ye forgive not men their trespasses, neither will your Father forgive your trespasses.
Matthew 6:9-15
But pray ye that your flight be not in the winter, neither on the Sabbath day:
Matthew 24:20
Watch and pray, that ye enter not into temptation: the spirit indeed is willing, but the flesh is weak.
Matthew 26:41
Pray without ceasing.
The darkness of the evil one encloses those who neglect to pray. The whispered temptations of the enemy entice them to sin; and it is all because they do not make use of the privileges that God has given them in the divine appointment of prayer. Why should the sons and daughters of God be reluctant to pray, when prayer is the key in the hand of faith to unlock heaven's storehouse, where are treasured the boundless resources of Omnipotence? Without unceasing prayer and diligent watching we are in danger of growing careless and of deviating from the right path. The adversary seeks continually to obstruct the way to the mercy seat, that we may not by earnest supplication and faith obtain grace and power to resist temptation.
S C 94
------------------------------------
Rest yourself wholly in the hands of Jesus. Contemplate His great love, and while you meditate upon His self-denial, His infinite sacrifice made in our behalf in order that we should believe in Him, your heart will be filled with holy joy, calm peace, and indescribable love. As we talk of Jesus, as we call upon Him in prayer, our confidence that He is our personal, loving Saviour will strengthen, and His character will appear more and more lovely. . . . We may enjoy rich feasts of love, and as we fully believe that we are His by adoption, we may have a foretaste of heaven. Wait upon the Lord in faith. The Lord draws out the soul in prayer, and gives us to feel His precious love. We have a nearness to Him, and can hold sweet communion with Him. We obtain distinct views of His tenderness and compassion, and our hearts are broken and melted with contemplation of the love that is given to us. We feel indeed an abiding Christ in the soul. . . . Our peace is like a river, wave after wave of glory rolls into the heart, and indeed we sup with Jesus and He with us. We have a realizing sense of the love of God, and we rest in His love. No language can describe it, it is beyond knowledge. We are one with Christ, our life is hid with Christ in God. We have the assurance that when He who is our life shall appear, then shall we also appear with Him in glory. With strong confidence, we can call God our Father. Whether we live or die, we are the Lord's. His Spirit makes us like Jesus Christ in temper, and disposition, and we represent Christ to others. When Christ is abiding in the soul the fact cannot be hid; for He is like a well of water springing up into everlasting life. We can but represent the likeness of Christ in our character, and our words, our deportment, produces in others a deep, abiding, increasing love for Jesus, and we make manifest . . . that we are conformed to the image of Jesus Christ.
S D G 311