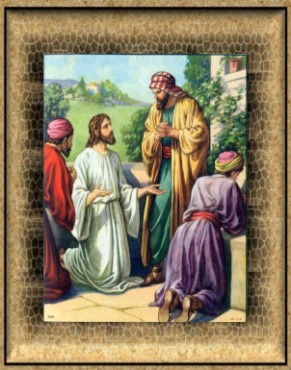 Jesus Friends
Then Jesus called his
disciples unto him, and said, I have compassion on the multitude, because they continue with me now three days, and have nothing to eat: and I will not send them away fasting, lest they faint in the way.
Matthew 15:32
These disciples had been for some time associated with Jesus in active labor. John and James, Andrew and Peter, with Philip, Nathanael, and Matthew, had been more closely connected with Him than the others, and had witnessed more of His miracles. Peter, James, and John stood in still nearer relationship to Him. They were almost constantly with Him, witnessing His miracles, and hearing His words. John pressed into still closer intimacy with Jesus, so that he is distinguished as the one whom Jesus loved. The Saviour loved them all, but John's was the most receptive spirit. He was younger than the others, and with more of the child's confiding trust he opened his heart to Jesus. Thus he came more into sympathy with Christ, and through him the Saviour's deepest spiritual teaching was communicated to His people.
DA 292
----------------------------------------
The great aim and purpose of this life is to form characters so that we shall be accounted worthy of eternal life. We shall act as rational beings, and make religion a practical matter. We need to keep our Saviour ever before us, and educate ourselves in such a way that our desires shall continually flow out toward him, that we shall meditate upon his promises, and address him in confiding faith. Before you engage in any important work, remember that Jesus is your counselor, and that it is your privilege to cast all your care upon him; for he invites you to do so, and is at your right hand, that you shall not be moved. Each day be determined that you will keep nigh to God, looking unto Jesus, the author and finisher of your faith. Do not neglect and slight Jesus; for this you would not do to any of your cherished friends. Do not keep Jesus in the background and never mention his name, never call the attention of your friends to him who is at your side to be your counselor. Would not your friends look upon you as disrespectful were they at your side, and you never spoke to them or of them? "A son honoreth his father, and a servant his master: if then I be a father, where is mine honor? and if I be a master, where is my fear? saith the Lord of hosts."
YI July 19, 1894
-------------------------------------
The first missionary that Jesus sent to the region of Decapolis was the man out of whom he had cast the legion of devils. The man had begged to accompany Jesus constantly, but Jesus "suffered him not, but saith unto him, Go home to thy friends, and tell them how great things the Lord hath done for thee, and hath had compassion on thee." This man bore in his own person the evidence that Jesus was the true Messiah. He related his own experience, telling how great things God had done for him, and thus the way was prepared for the message of truth from the lips of Jesus himself.
ST October 12,1891
-------------------------------------
When Jesus asked Martha: "Believest thou?" she answered by a confession of her faith: "Lord, I believe that thou art the Christ, the Son of God, which should come into the world." Thus Martha declared her belief in the Messiahship of Jesus, and that he was able to perform any work which it pleased him to do. Jesus bade Martha call her sister, and the friends that had come to comfort the afflicted women. When Mary came she fell at the feet of Jesus, also crying, "Lord, if thou hadst been here, my brother had not died." At the sight of all this distress, Jesus "groaned in the spirit, and was troubled, and said, Where have ye laid him? They said unto him, Lord, come and see." Together they all proceeded to the grave of Lazarus, which was a cave with a stone upon it.
Redemption 104