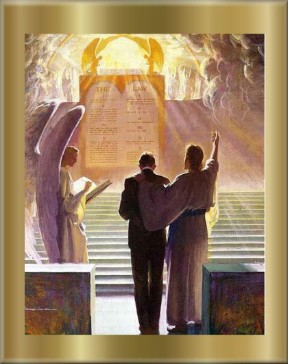 Jesus Forgives
Then said Jesus, Father, forgive them; for they know not what they do. And they parted his raiment, and cast lots.
Luke 23:34
And, behold, they brought to him a man sick of the palsy, lying on a bed: and Jesus seeing their faith said unto the sick of the palsy; Son, be of good cheer; thy sins be forgiven thee.
Matthew 9:2
But he, being full of compassion, forgave their iniquity, and destroyed them not: yea, many a time turned he his anger away, and did not stir up all his wrath.
Psalms 78:38
Forbearing one another, and forgiving one another, if any man have a quarrel against any: even as Christ forgave you, so also do ye.
Colossians 3:13
And when ye stand praying, forgive, if ye have ought against any: that your Father also which is in heaven may forgive you your trespasses.
Mark 11:25
But if ye do not forgive, neither will your Father which is in heaven forgive your trespasses.
Mark 11:26
----------------------------------------
God is approached through Jesus Christ, the Mediator, the only way through which He forgives sins. God cannot forgive sins at the expense of His justice, His holiness, and His truth. But He does forgive sins and that fully. There are no sins He will not forgive in and through the Lord Jesus Christ. This is the sinner's only hope, and if he rests here in sincere faith, he is sure of pardon and that full and free. There is only one channel and that is accessible to all, and through that channel a rich and abundant forgiveness awaits the penitent, contrite soul and the darkest sins are forgiven. These lessons were taught to the chosen people of God thousands of years ago, and repeated in various symbols and figures, that the work of truth might be riveted in every heart, that without the shedding of blood there is no remission of sins. . . . Justice demanded the sufferings of man; but Christ rendered the sufferings of a God. He needed no atonement of suffering for Himself; all His sufferings were for us; all His merits and holiness were open to fallen man, presented as a gift.
FLB 102
---------------------------------------- Remission of sins can be obtained only through the merits of Christ. On no man, priest or pope, but on God alone, rests the power to forgive sins. "Behold the Lamb of God, which taketh away the sin of the world." "As many as received him, to them gave he power to become the sons of God." "If we say we have fellowship with him, and walk in darkness, we lie, and do not the truth. . . . But whoso keepeth his word, in him verily is the love of God perfected." This is the message that is to be borne. On this basis Christians are free. Give encouragement of sins remitted. "If we walk in the light, as he in the light, we have fellowship one with another, and the blood of Jesus Christ his Son cleanseth us from all sin. . . . If we confess our sins, he is faithful and just to forgive us our sins, and to cleanse us from all unrighteousness." "These things write I unto you, that ye sin not. And if any man sin, we have an advocate with the Father, Jesus Christ the righteous: and he is the propitiation for our sins: and not for ours only, but also for the sins of the whole world."
A. R. & S. H.
June 13,1899
---------------------------------------
For thou, Lord, art good, and ready to forgive; and plenteous in mercy unto all them that call upon thee.
Psalms 86:5